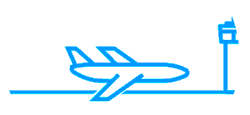 World Cup 1950
See the status and results from FIFA World Cup 1950.
Tournament Information
World Cup Winning Country:
Uruguay
Participant teams:
34 (final tournament: 13)
Goals scored:
88 (4.00 per match)
Top scorer/Golden Shoe:
Ademir (BRA) 9 goals
Attendance:
1,337,000 (60,773 per match)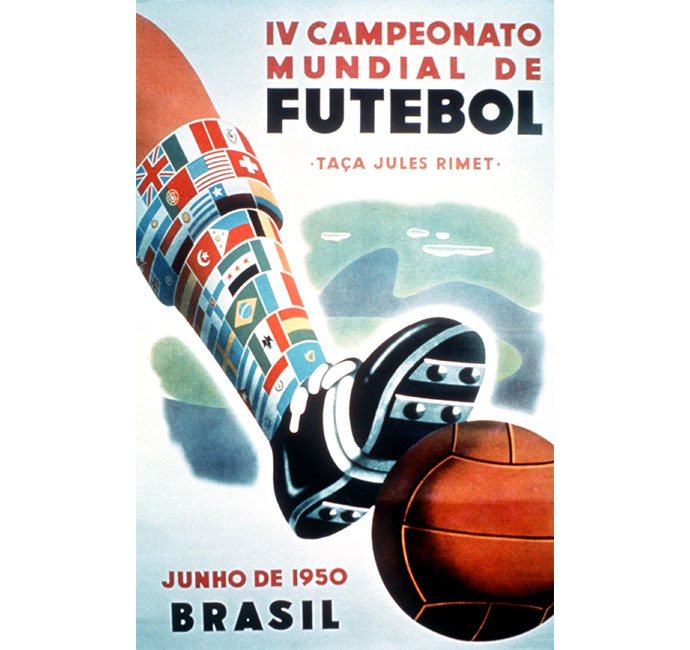 Coach: Juan López Fontana (URU)
This was the 1st World Cup where the players' jerseys featured back numbers, though no teams had fixed numbers for each player. Thus, the players are ordered by name. In the Final Match Obdulio Varela captained Uruguay wearing Jersey No. 5.
| No.: | Position | Player | Date of Birth | Age | Caps | Club |
| --- | --- | --- | --- | --- | --- | --- |
| - | MF | Víctor Rodríguez Andrade | 2 May 1927 | 23 | 11 | Club Atletico Espagnol, Uruguay |
| - | FW | Julio César Britos | 18 May 1926 | 24 | 10 | Peñarol, Uruguay |
| - | FW | Juan Burgueño Pereira | 4 February 1923 | 27 | 4 | Futbol Club Danubio Montevideo, Uruguay |
| - | DF | Schubert Gambetta | 14 April 1920 | 30 | 39 | Club Nacional de Football, Uruguay |
| - | FW | Alcides Ghiggia | 22 December 1926 | 23 | 3 | Peñarol, Uruguay |
| - | DF | Juan Carlos González | 22 August 1924 | 25 | 3 | Peñarol, Uruguay |
| - | DF | Matías González | 6 August 1925 | 24 | 7 | Club Atletico Cerro Montevideo, Uruguay |
| - | DF | Wílliam Pablo Martínez | 13 January 1928 | 22 | 3 | Rampla Juniors, Uruguay |
| - | GK | Roque Máspoli | 12 October 1917 | 32 | 27 | Peñarol, Uruguay |
| - | FW | Omar Oscar Míguez | 5 December 1927 | 22 | 5 | Peñarol, Uruguay |
| - | FW | Rubén Morán | 6 August 1930 | 19 | 2 | Club Atletico Cerro Montevideo, Uruguay |
| - | MF | Washington Ortuño | 13 May 1928 | 22 | 0 | Peñarol, Uruguay |
| - | GK | Aníbal Luis Paz | 18 February 1918 | 32 | 23 | Club Nacional de Football, Uruguay |
| - | FW | Julio Gervasio Pérez Gutiérrez | 19 June 1926 | 24 | 7 | Club Nacional de Football, Uruguay |
| - | MF | Rodolfo Pini | 1926 | | 6 | Club Nacional de Football, Uruguay |
| - | FW | Carlos Romero | 7 September 1927 | 22 | 3 | Futbol Club Danubio Montevideo, Uruguay |
| - | FW | Juan Alberto Schiaffino | 28 July 1925 | 24 | 9 | Peñarol, Uruguay |
| - | DF | Eusebio Ramón Tejera | 6 January 1922 | 28 | 28 | Club Nacional de Football, Uruguay |
| - | FW | Luis Alberto Rijo | 28 September 1927 | 22 | 0 | Futbol Club Central Espagnol, Uruguay |
| 5 | MF | Obdulio Varela (c) | 20 September 1917 | 32 | 39 | Peñarol, Uruguay |
| - | FW | Ernesto Vidal | 15 November 1921 | 28 | 0 | Peñarol, Uruguay |
| - | DF | Héctor Vilches | 14 February 1926 | 24 | 5 | Club Atletico Cerro Montevideo, Uruguay |
First round
Group A
| | Pld | W | D | L | GF | GA | GD | Pts |
| --- | --- | --- | --- | --- | --- | --- | --- | --- |
| Brazil | 3 | 2 | 1 | 0 | 8 | 2 | 6 | 5 |
| Yugoslavia | 3 | 2 | 0 | 1 | 7 | 3 | 4 | 4 |
| Switzerland | 3 | 1 | 1 | 1 | 4 | 6 | -2 | 3 |
| Mexico | 3 | 0 | 0 | 3 | 2 | 10 | -8 | 0 |
June 24
Maracanã, Rio de Janeiro
Brazil

4 - 0

Mexico
June 25
Estádio Independência, Belo Horizonte
Yugoslavia

3 - 0

Switzerland
June 28
Estádio do Pacaembu, São Paulo
Brazil

2 - 2

Switzerland
June 29
Estádio Eucaliptos, Porto Alegre
Yugoslavia

4 - 1

Mexico
July 1
Maracanã, Rio de Janeiro
Brazil

2 - 0

Yugoslavia
July 2
Estádio Eucaliptos, Porto Alegre
Switzerland

2 - 1

Mexico
Group B
| | Pld | W | D | L | GF | GA | GD | Pts |
| --- | --- | --- | --- | --- | --- | --- | --- | --- |
| Spain | 3 | 3 | 0 | 0 | 6 | 1 | 5 | 6 |
| England | 3 | 1 | 0 | 2 | 2 | 2 | 0 | 2 |
| Chile | 3 | 1 | 0 | 2 | 5 | 6 | -1 | 2 |
| United States | 3 | 1 | 0 | 2 | 4 | 8 | -4 | 2 |
June 25
Maracanã, Rio de Janeiro
England

2 - 0

Chile
June 25
Estádio Durival de Brito, Curitiba
Spain

3 - 1

United States
June 29
Maracanã, Rio de Janeiro
Spain

2 - 0

Chile
June 29
Estádio Independência, Belo Horizonte
United States

1 - 0

England
July 2
Maracanã, Rio de Janeiro
Spain

1 - 0

England
July 2
Ilha do Retiro, Recife
Chile

5 - 2

United States
Group C
| | Pld | W | D | L | GF | GA | GD | Pts |
| --- | --- | --- | --- | --- | --- | --- | --- | --- |
| Sweden | 2 | 1 | 1 | 0 | 5 | 4 | 1 | 3 |
| Italy | 2 | 1 | 0 | 1 | 4 | 3 | 1 | 2 |
| Paraguay | 2 | 0 | 1 | 1 | 2 | 4 | -2 | 1 |
June 25
Estádio do Pacaembu, São Paulo
Sweden

3 - 2

Italy
June 29
Estádio Durival de Brito, Curitiba
Sweden

2 - 2

Paraguay
July 2
Estádio do Pacaembu, São Paulo
Italy

2 - 0

Paraguay

India withdrew
Group D
| | Pld | W | D | L | GF | GA | GD | Pts |
| --- | --- | --- | --- | --- | --- | --- | --- | --- |
| Uruguay | 1 | 1 | 0 | 0 | 8 | 0 | 8 | 2 |
| Bolivia | 1 | 0 | 0 | 1 | 0 | 8 | -8 | 0 |
July 2
Estádio Independência, Belo Horizonte
Uruguay

8 - 0
Bolivia

Turkey withdrew

Scotland withdrew
Final round
| | Pld | W | D | L | GF | GA | GD | Pts |
| --- | --- | --- | --- | --- | --- | --- | --- | --- |
| Uruguay | 3 | 2 | 1 | 0 | 7 | 5 | 2 | 5 |
| Brazil | 3 | 2 | 0 | 1 | 14 | 4 | 10 | 4 |
| Sweden | 3 | 1 | 0 | 2 | 6 | 11 | -5 | 2 |
| Spain | 3 | 0 | 1 | 2 | 4 | 11 | -7 | 1 |
July 9
Maracanã, Rio de Janeiro
Brazil

7 - 1

Sweden
July 9
Estádio do Pacaembu, São Paulo
Spain

2 - 2

Uruguay
July 13
Maracanã, Rio de Janeiro
Brazil

6 - 1

Spain
July 13
Estádio do Pacaembu, São Paulo
Uruguay

3 - 2

Sweden
July 16
Estádio do Pacaembu, São Paulo
Sweden

3 - 1

Spain
July 16
Maracanã, Rio de Janeiro
Attendance: 199,854
Referee: George Reader (England)
Goals: Friaca (BRA) 47', Schiaffino (URU) 66', Ghiggia (URU) 79'
Uruguay

2 - 1

Brazil